LONDON, 27 January 2017, Fuse Universal, is proud to announce that it is now regarded as the highest performing next-generation learning system in the 2017 Fosway 9-Grid™report.
Fuse Universal has pioneered the way in which the world learns with over 100 clients and 800,000 learners choosing Fuse as their alternative to a traditional learning management system. 
Steve Dineen, CEO at Fuse Universal stated, "Seeing Fuse recognised as the highest performer in next-generation learning and the core leader in the category is hugely rewarding for us. We've had a really successful 2016 with continued 100%+ growth year on year and we are honoured by so many amazing global brands joining our community of clients in the last year 12 months. The likes of The Prince's Trust, Spotify, EY, Hilti, Carpetright, IHG and Scandic Hotels choosing Fuse as their modern alternative to an LMS and most importantly all over-achieving on levels of engagements. We are also hugely excited how these great brands and organisations are embracing next-generation learning technology along with the capability to finally align and measure learning with business impact.
"Continuous learning has been a massive part of our company's vision and to deliver on this we believe that the future must be through a next-generation learning system. Our tools, specifically around creating learning experiences through mobile, social, video, machine learning & blended learning, have been the reason for our continued growth and success. What we are most proud of, is the success our customers and partners are achieving"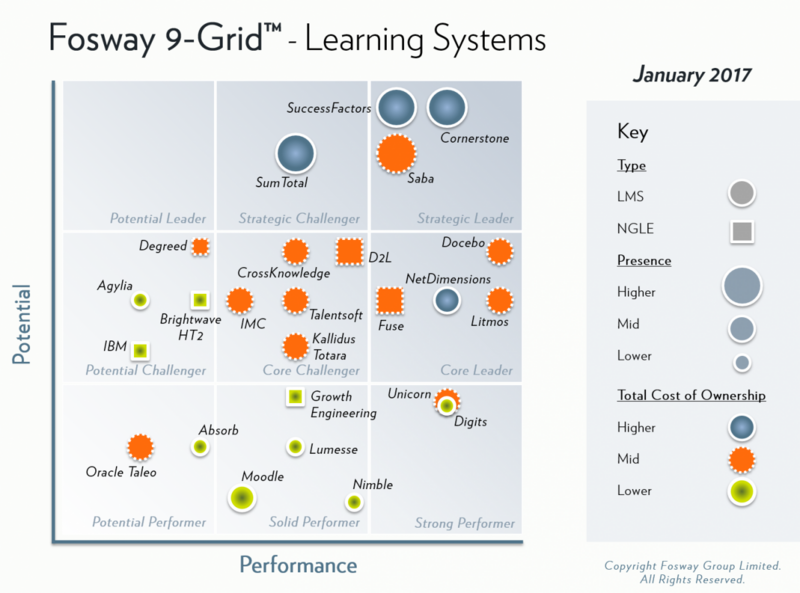 2017 marks a recalibration of the Fosway9-Grid™ for Learning Systems to reflect solutions which offer either LMS or Next Gen Learning capabilities – This reflects movement in the marketplace where buyers are increasingly looking to enable non-traditional training delivery
Learn more and download the 2017 Fosway 9-Grid™ for Learning Systems at http://www.fosway.com/9-grid/learning-systems
About Fosway Group
At Fosway Group we understand that developing and engaging people is how complex global organisations deliver performance and achieve success. Just as every employee's talent journey is unique, so is every organisation's people strategy.
Fosway Group's analyst and advisory services deliver the insights your organisation needs to achieve results and eliminate risk. We know that every aspect of next generation HR and talent are more intertwined than ever. When you work with us, you accelerate your insight and make better decisions.
We're Europe's #1 independent HR analyst, and just like the Roman road we draw our name from, you'll find that we're unusually direct. We don't have a vested interest in your technology or consulting choices. You can depend on us to tell you what you need to know to succeed.
About Fuse Universal
Fuse Universal is a market leading modern learning management system located in the heart of Shoreditch, London. Founded in 2008, Fuse delivers next-generation learning across a multitude of clients across the globe. More than 100 clients, ranging from medium-sized businesses to education and government bodies to Global 500 enterprises, all who have selected Fuse Universal as their primary learning solution.